Speaker Profiles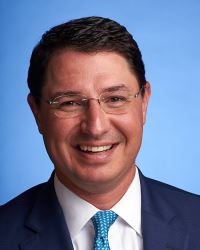 Chris Gaston
Senior Policy Advisor
Davis & Harman LLP
Chris Gaston is Senior Policy Director of Davis & Harman LLP. Chris has more than a dozen years of Capitol Hill experience and he represents clients on a wide range of issues before Congress, particularly retirement and savings policy.
Prior to joining Davis & Harman LLP, Chris served as Chief of Staff for U.S. Representative Rush Holt (D-NJ) who was a senior member of the House Committee on Education and the Workforce.
After growing up in Central New Jersey, Chris initially started with Rep. Holt as an intern and over the next twelve years, worked for Rep. Holt in a number of congressional and political positions. For more than five years Chris served as Rep. Holt's Legislative Director where he helped establish an ambitious legislative agenda and advised him on a diverse range of legislative issues. In that capacity, Chris was responsible for all of Rep. Holt's work on the Education and the Workforce Committee, including his legislative initiatives to promote retirement savings. Chris also led Rep. Holt's efforts to raise concerns about the Department of Labor's fiduciary proposal.
Chris graduated with a B.A. in Political Science with a Public Policy Focus from The George Washington University and received a M.A. in International Law and Politics from Georgetown University. He and his wife, Molly, have two active kids, Max and Clare, and one hyper active Border collie, Ace.
Mike Hadley
Partner
Davis & Harman LLP
Mike Hadley is a partner in the law firm Davis & Harman LLP. He practices in the area of employee benefits, advising clients on the full range of tax, ERISA, and other laws affecting benefit plans. He has a particular focus on helping financial institutions that sell products to defined contribution and defined benefit plans, IRAs and similar plans navigate the special rules that govern those plans. He also provides clients with strategic advice, plan design, counseling, and compliance assistance for qualified plans, 403(b) and 457 plans, non-qualified executive compensation, employment agreements, and health and other welfare plans.
Mike was formerly Associate Counsel for Pension Regulation at the Investment Company Institute, the national association of U.S. investment companies. His responsibilities included advocating for the Institute's membership before Congress, the Department of Labor, the Department of the Treasury, and the Securities Exchange Commission on retirement security issues and assisting ICI members and staff in understanding tax and ERISA rules. Among other duties he managed ICI's work implementing the Pension Protection Act and responding to 401(k) fee, investment advice, and fiduciary developments in Congress, DOL, and the courts.
Prior to joining ICI, Mike was an associate with Covington & Burling LLP, where he advised clients on employee benefit plans and executive compensation arrangements, provided advice on ERISA litigation, and assisted with pension and benefits issues in mergers, acquisitions, and other corporate transactions.
Mike is a frequent speaker on the latest retirement savings policy developments coming out of Congress and the regulatory agencies and has testified before Treasury, IRS, and Department of Labor. A sampling of articles he has authored or co-authored: ERISA Compliance for Investment Advisers: A Q&A Guide To DOL's 408(b)(2) Disclosure Regulation, Investment Lawyer, Vol. 20, No. 7 (July 2013); The Economics of Providing 401(k) Plans: Services, Fees, and Expenses, 2010 ICI Research Perspective, Vol. 17, No. 4 (June 2011); and 401 (k) Plans: A 25-Year Retrospective, ICI Research Perspective, Vol. 12, No. 2 (Nov. 2006).
Mike was a law clerk for the Honorable Gerald Tjoflat, U.S. Court of Appeals for the Eleventh Circuit. He received his J.D. from the University of Virginia, where he was Notes Editor of the Virginia Law Review and elected to the Order of the Coif. He received his B.A., cum laude, from the College of William and Mary.
Tim Rouse
Executive Director
SPARK Institute
Tim has over thirty years of experience in the financial services industry mainly within retirement services of large mutual fund companies. For the past twenty-five years Tim has worked with major plan sponsors in state and local governments, corporations, Taft-Hartley plans, nonprofit hospitals, colleges and universities. Over his career Tim has worked with Voya Financial, Fidelity Investments, ICMA Retirement Corporation and The Vanguard Group.
Tim is a former President of the National Association of Government Defined Contribution Administrators' Industry Board and a graduate of Villanova University.